Overflow Crowd Attends Sandhill Crane Permit Drawing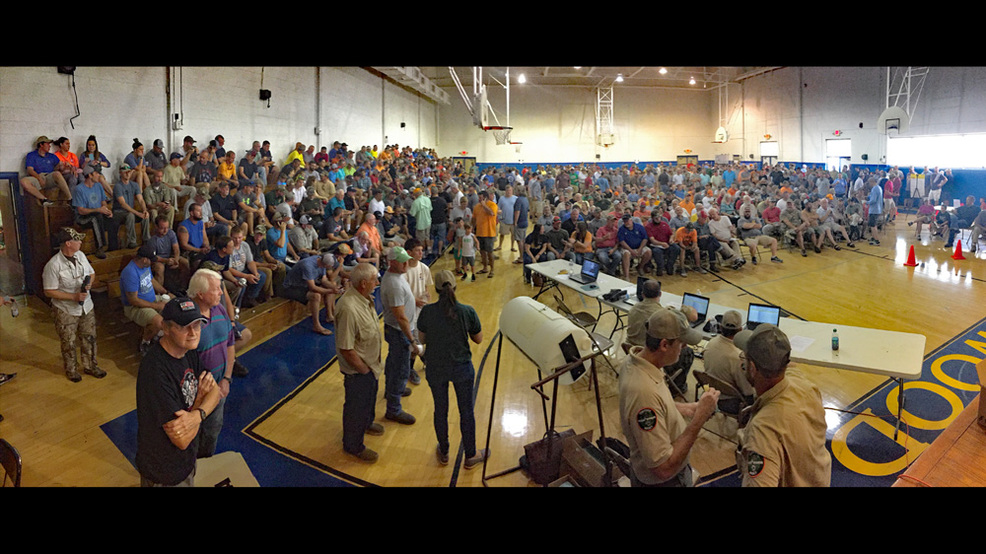 CHATTANOOGA, Tenn. —
It is very clear that hunting sandhill cranes in Southeast Tennessee is becoming more and more popular. A record-breaking crowd showed up for the handheld drawing for hunting permits Saturday at the Birchwood Community Center, creating a traffic and parking nightmare in the small community of Birchwood, Tenn.
This is the fifth year for the permit drawing and for the annual sandhill crane hunting season in Tennessee. The first three years of the season, fewer than 400 people attended the drawing for the allotted 400 permits, meaning everyone went away successful. Last season 421 people showed up, meaning only 21 people didn't receive a permit. On Saturday, however, there were a total of 558 hopeful hunters in attendance, meaning 158 people went away disappointed.
Those hunters still have the opportunity to apply in a statewide computerized drawing for 1,100 hunting permits. This is the first year Tennessee hunters will be able to harvest a sandhill crane statewide, however those permits only allow the taking of one crane. The application period for the computerized draw is Sept. 6-27, 2017. The 400 Southeast Tennessee permits handed out Saturday allow for the taking of three sandhill cranes per hunter (in the Southeast Tennessee Hunting Zone only).
Tags are not valid until a 2017 "Sandhill Crane ID Test" validation code is written on the tag. The purpose of the test is to improve hunters' awareness of and ability to distinguish between sandhill cranes and other protected species, such as whooping cranes, which may be encountered while hunting.
The 2017-18 season will be Dec. 2. - Jan. 28, 2018; however, there is a three-day closure (Friday-Sunday, Jan. 12-14) in the Southeast Crane Zone for the annual Tennessee Sandhill Crane Festival.
The sandhill crane hunt has inspired at least one new business in the area.
Double HH Outfitters is a guide service based in Dayton, Tenn. catering exclusively to sandhill crane hunters. The company began operation last season with just a few hunts.

Jason Jackson, a guide for Double HH Outfitters said, "I love watching people get excited and love watching the birds decoy in. When the birds cup up and commit and hit the ground, it's a rush."
"We pass shot [the sandhills] for a year or two and tried another type of decoy that wouldn't work," said Jackson. "From there we just got curious, did some research online and called some people out west that guide for sandhills. We found out that you've got to have good decoys."
Good quality decoys do not come cheap.
"By the time you get them shipped here they're at least $100 apiece," said guide Scott Shelby.
Biologists estimate that at least 30,000 migratory sandhill cranes spend the winter in Southeast Tennessee. Many of those birds are concentrated on the Hiwassee Wildlife Refuge in Meigs County and on the Yuchi Wildlife Refuge in Rhea County. However the big birds fan out to feed across several counties and even the Sequatchie Valley.
The management of the migratory sandhill cranes ultimately rests with the U.S. Fish and Wildlife Service, in cooperation with TWRA. So far, due to initial controversy over hunting the cranes, the Tennessee Wildlife Resources Commission has allowed fewer hunting permits than allowed by the USFWS. With the expansion this year a total of 1,500 permits will be issued, allowing the potential harvest of 2,300 sandhill cranes. However TWRA Biologist Ben Layton said the federal guidelines for permits to take up to 2,700 cranes each season.
The harvest of cranes is far, far less than permits issued. Jackson said last season, with the potential for 1,200 cranes to be taken, hunters actually killed 586. In general there are roughly 1.5 sandhill cranes taken per hunter.
The birds make excellent table fare. Many hunters commonly refer to sandhill cranes as "ribeye in the sky."
Some hunters at Saturday's drawing expressed concern over the huge turnout and very lengthy drawing process that began at 8 am and didn't end until 12:30 pm. One Tennessee wildlife commissioner in attendance said they would be reviewing the process for future drawings.
For more information on sandhill cranes visit this TWRA web page or Double HH Outfitters Facebook page.

Unmute